About This Course
Initiative is a double-edge sword!
Do it right, and you can end the game with a swift, clever combination that is being talked for ages.
Do it wrong, and your opponent's material advantage stares you right in the eye.
So, what is the right way to take the initiative in chess?
This course is here to teach you exactly that —starting from how to sense the "moment" to trading material for development…
The author goes through some of the best games by the most aggressive players in chess history, and dissects them move by move to find out the key factors behind a great initiative.
This is not merely a course. It's around 10-hours journey!
Why Was This Course Created?
Much like in boxing, chess is not about going into a wild fit of attacking blows or covering your head while cowering in a corner…
What's it about then?
It's about CONTROL.
It's about not letting your opponent breathe for a second…
It's about making every move build to consistent threats…
It's less about prophylaxis but more about paralysis.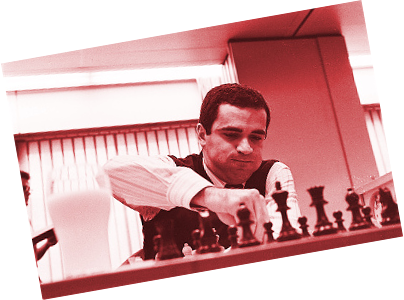 It's called taking the initiative where you call the shots and your opponent passively responds to them.
Watch a few games of Bronstein, Keres or Kasparov, and you will understand what initiative means!
What you will learn
If you are more of a defensive player, this course is NOT for you. However, if you want to keep your opponent dancing on his toes on every move, you will love this.
Sense the Moment
To be good at tactics, you have to smell them from miles away… Like Fischer did, when he sacrificed his queen against Byrne. Szabo shows you how to do that through 3 games of his choice.
"I don't give a damn!"
That's what you say to your opponent's threat because you know that your threat is faster and deadlier than his! Remember, taking the initiative is when you act and your opponent reacts.
Never Let It Slack
Many a lower-rated player launch an attack too early, which fizzles out in the next few moves. If you grab the initiative, don't let it go! Szabo shows you how it is not about attacking on every move, but a fight in time instead.
Draw Him out in the Open
Let's make one thing clear. If you could draw the enemy king out in the center, even by sacrificing a few pieces, do know you are winning… almost every time. Master this technique by studying two of the best games of Nezhmetdinov.
Break Through the Center
Unless you open up the center, your pieces can never release their full potential. Look for holes in your opponent's position. Once you see any, it's time to get those central pawns ready for action.
The Best Content out There!
This course was created by one of our partners: The Chess World
We only choose what's best for your improvement!
About the Author
IM Bence Szabo
Bence Szabo is an Hungarian International Master and an active tournament player with 2406 ELO FIDE.
He held the National and European Youth Champion's titles.
IM Szabo has over 10 years of coaching experience with some of his top students becoming National Champions in different age categories and claiming various international norms and titles.
He works as a head coach in one of the largest chess schools in Hungary. He has worked with multiple medal-winning Olympic Grandmasters and other top talents.
This course includes:
10.1 hours on-demand video
30-DAY MONEY-BACK GUARANTEE
COMMENTED GAMES FOR PRACTICE
AVAILABLE FOR DOWNLOADING
ACCESS ON MOBILE, DESKTOP, TABLET
Learn Anywhere, Anytime and on Any Device
The courses can be accessed on ANY device (even non-Windows devices).
Video lessons, chess games, exercises, documents, all are there for you.
You can study RCA courses online or download them.
Video Lessons
Lesson 1 – Sensing the Moment

00:38:00
Lesson 2 – Keeping Up the Momentum

00:33:00
Lesson 3 – Ignoring the Threat

00:35:00
Lesson 4 – Fight for the Initiative

00:39:00
Lesson 5 – Developing the Attack

00:35:00
Lesson 6 – King in the Center

00:29:00
Lesson 7 – Breakthrough in the Center

00:32:00
Lesson 8 – The Castled King

00:36:00
Lesson 9 – The Battering Ram I

00:37:00
Lesson 10 – The Battering Ram II

00:41:00
Lesson 11 – Pawn Structure Sacrifices

00:37:00
Lesson 12 – Sacrifice for Development

00:38:00
Lesson 13 – Typical Attacking Themes I

00:35:00
Lesson 14 – Typical Attacking Themes II

00:33:00
Lesson 15 – Typical Attacking Themes III

00:35:00
Lesson 16 – Typical Attacking Themes IV

00:32:00
Lesson 17 – Intuitive Sacrifice

00:39:00
Customers Who Bought This Item Also Bought
What you'll learn
30-DAY MONEY-BACK GUARANTEE
UNLIMITED ACCESS
COMMENTED GAMES FOR PRACTICE
AVAILABLE FOR DOWNLOADING
ACCESS ON MOBILE, DESKTOP, TABLET